TURISTI NEI CIAN VOLUNTOURISM PROJECT
"Even Paradise Needs a Gardener"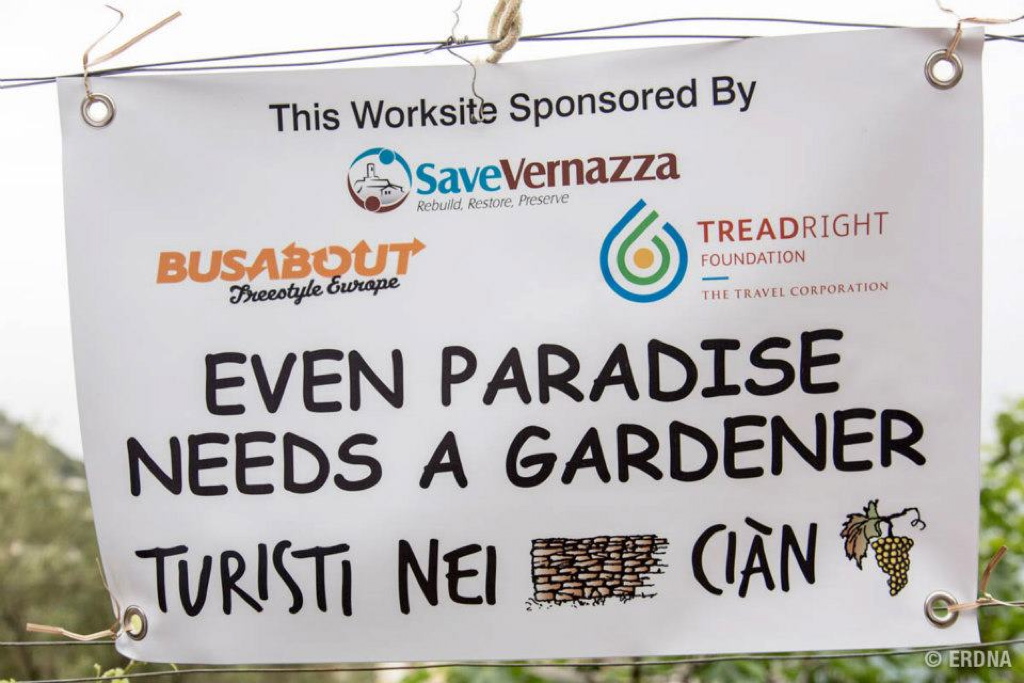 Save Vernazza's Turisti nei Cian (Tourists in the Wild) Voluntourism Project welcomed 1090 participants in 135 excursions in 6 seasons from 2013 through 2018. Save Vernazza connected travelers to local guides and farmers to restore vineyards, rebuild stonewalls, and harvest grapes in Vernazza, Cinque Terre, Italy.
Thanks to our partnership with Busabout and TreadRight, we made difference in Vernazza's beautiful, fragile territory, helping local farmers, promoting sustainable tourism in the Cinque Terre, and helping preserve a UNESCO World Heritage Site.
Why Voluntourism?
Vernazza was hit by a devastating storm in 2011 that caused flooding and landslides, burying Vernazza and causing extensive damage in the hillsides. Maintaining the territory is critical to avoid further erosion and to prevent additional landslides.
What was the project's impact from 2013 to 2018?
Turisti nei Cian ("Tourists in the Wild") Voluntourism Project connected travelers to local guides and farmers to restore vineyards, rebuild stonewalls, and harvest grapes in Vernazza, Italy.
1090 participants joined 135 excursions over 6 seasons
20 different landowners received help to rebuild terracing and stonewalls (for which Vernazza and the Cinque Terre have been recognized as a World Heritage Site by UNESCO), restore olive groves, cultivate vineyards and harvest grapes.
Thanks to donations from Busabout travelers and TreadRight, Save Vernazza built five dry stonewalls and restored land above the train station (to prevent further landslides onto the tracks) and one dry stonewall above a trail to keep hikers safe from landslides.
Save Vernazza guides and landowners are local men and women who are passionate about preserving their town's fragile, terraced hillsides while sharing their heritage with voluntourist guests.
Turisti nei Cian made a difference in Vernazza's beautiful, fragile territory because…"Even Paradise Needs a Gardener".
Photos by Andrea Erdna Barletta
"We at Busabout wanted to find a way we could give back to the community so together with TreadRight, our partner in sustainable tourism, we've teamed up with Save Vernazza, a non-profit created by three local women who are former backpackers themselves. By working with Save Vernazza, we hope to support the sustainable development of tourism and give back to a region that has given our passengers so much in the past fifteen years."
This sustainable tourism program, supported by Busabout and TreadRight Foundation, is the first of its kind in Vernazza and the Cinque Terre National Park.
Here's what the Save Vernazza Voluntourism Team says about the project:
Michele Lilley:
The best thing about "Turisti nei Cia'n" is seeing the smiling faces of landowners and tourists while they work side by side to improve Vernazza's future in our fragile territory. Although they don't speak the same language, landowners and voluntourists seem eager to share the hard work and a bit of themselves and their culture.
We built walls together but we crossed divides. We broke through the tough weathered exterior of the Vernazzan farming culture and dug new ground together. We formed bonds and made memories that will last a lifetime. Proud landowners, who usually go up into the hills to escape the pervasive tourism in town, had the opportunity to share with voluntourists their land's history, the hard work their forefathers had done to carve it out and how they farm today.
They were proud and incredulous at how hard the eager voluntourists worked and they couldn't believe that they wanted to do more work after the day was done. The voluntourists were equally amazed by the steep hillsides, vertical terracing, dry stonewalls and just how much work it took over the centuries to cultivate Vernazza's rugged terrain. At the end of the day, many didn't want to go back down to the crowded piazza in town. Life's simple pleasures and the satisfaction of helping your fellow man preserve his land and his culture was as rich an experience as they would ever have together.
The partnership with Busabout and the TreadRight Foundation proved to be an invaluable investment in the community of Vernazza. Landowners and tourists working side by side were able to open the eyes of the entire community to become living proof that sustainable tourism is possible by creating a mutually beneficial environment where we invite interested tourists into our vineyards and olive groves and share our culture and what it means to be a local in our small village of Vernazza.
Ruth Manfredi:
I am so proud to be a part of this project! I have been in Vernazza since 1995 and never before worked in the territory or had a chance to really get to know so many landowners and their family properties. I have come to know and appreciate aspects of Vernazza's cultural heritage that are impossible to know any other way. It is my pleasure to share Vernazza's heritage with the voluntourists.
The Voluntourism excursions are hard work but always amazing: the views, meeting the people, feeling connected to the earth, giving back, the lunch! I believe that one of the most important aspects of the project is teaching about Vernazza and its fragile territory to not only the participants but all of their friends and families back home in Australia, Europe or the USA via our Facebook postings.
Our success is thanks to the team: the incredible women of Save Vernazza, the hardworking Vernazza landowners and the help and support of Tracey and Dax at Busabout. We look forward to building on our success and continuing to share the fun!
Irene Di Martino:

For me it has been an incredible experience! The project gave me the opportunity to introduce my town and her traditions to the voluntourists but also to be able to meet beautiful people who made me understand how important this project really is. I learned many things about all aspects of local agriculture and I hope that this adventure can continue.