July 26, 2012
The July 2012 "Save Vernazza Newsletter" is available!

June 15, 2012
The June 2012 "Save Vernazza Newsletter" is available! Our first edition!

Click to view the June 2012 Save Vernazza Newsletter
June 5, 2012
A picture is worth a thousand words. Take a look back on May 2012.
Check out our June Five for 5 Fundraiser where your donation can win you a Vernazza experience.
Want to see photos from recent hikes we've done and/or read stories of experiences we've had lately? See our Save Vernazza blog.
Coming soon: The Save Vernazza Newsletter. Subscribe today!
Subscribe to our quarterly newsletter
May 13, 2012
Happy Mother's Day to all mothers past & present from the 3 moms that make up Save Vernazza, aiming to rebuild, restore & preserve this exceptional village for our children, our children's children and onward.
The first run of our Benefit Art Auction was such a success we have decided to extend the sale for another 10 days. Select artworks are available for purchase until May 21. See the Benefit Art Auction page to view the works and link to the eBay auctions.
Also, we have recently published the Save Vernazza Forum page to allow for the exchange of information & discussions amongst our followers. Visit today, create a topic and/or post a reply!
And, as always, up to date photos, trail info, the status of businesses in town & trip planning information can be found at our Travel Advisor section.
May 2, 2012
The Benefit Art Auction
Artist Anna Russo is the motivational force behind the latest Save Vernazza fundraising initiative. In tribute to Anna's husband Giuseppe "Pino" Gianonni, whose life was cut short when swept away by the flood of October 25, 2011, 22 local artists (including Anna & son Valentino of Valentino's story) have generously donated 34 beautiful works of art.
The auction runs from May 1-11. All artworks can be viewed at the Benefit Art Auction page. Click on the photos to link to the eBay auctions.Visit, view and bid your favorite piece today!
Six months have passed and the transformation continues. Vernazza is moving from "emergency to prevention" mode as noted by Italian President Giorgio Napolitano during his recent visit, and the town is open for business. Albeit one store, bar, restaurant at a time. The "unofficial" start to the tourist season arrived the weekend before Easter and Vernazza has been welcoming more and more people every day since.


What's new in & about Vernazza?
To see what Vernazza looks like now visit our Travel Advisor Photos & Videos page.
Beach clean up has commenced and many meters of dirt have been removed from the beach.
Bus service has been reinstated for routes to/from Vernazza, to/from the upper parking area and to/from the hamlets of San Bernadino & Fornacchi.
Many reconstruction projects for storefronts along Via Roma have been delayed due to humidity within. The cold and moist winter weather had not allowed the walls to thoroughly dry since the flooding and now as the weather is warming and properties drying, projects can restart. The majority of shops in Vernazza are expected to open by June.
On April 25, 2012…
…we had the pleasure of spending the day with Rick Steves and showing him around town, the remarkable progress made in the past 6 months and the work still yet to do. As if we didn't love Rick enough already for the way he feels about Vernazza, we couldn't help but love him even more as he shed some tears for the old gal upon seeing her for the first time since October 25, 2011. We are incredibly grateful to Rick and his organization for their continued support and coverage of Vernazza's recovery efforts. We look forward to Rick's return this summer as he and crew come back to film a new Cinque Terre travel special. To read about Rick's day in Vernazza see his "Report from the Cinque Terre".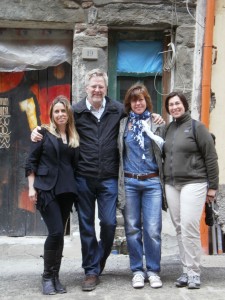 Nashville on eBay
Long time and frequent visitor to Vernazza, Lisa McLaughlin, is also a concert merchandise manager for various popular music artists. Lisa reached out to the artists she supports and they answered her call by generously donating many autographed items and additional memorabilia to Save Vernazza.
Artists include Garth Brooks, Peter Frampton, Wynonna Judd, Trisha Yearwood, Lady Antebellum, Martina McBride, Joby Saad and Terri Clark. The auctions are ongoing from April to October, with a different artists/item featured every 10 days through October 2012.

Visit the Nashville auction page to view this week's featured artist & item and link to the eBay auction.
What to do in Vernazza?
Get off the beaten path & discover hidden treasures. Download Save Vernazza's trail map & suggested itineraries and find up to date information at our Trail Updates page.
And, read Michele Lilley's blog about hiking trail 7 from Vernazza to San Bernadino & see photos of the hike at our newly created Save Vernazza Blog page.
For all your planning needs: Travel Advisor
Want to know if your favorite restaurant in Vernazza is open for business? Curious to see what shops will be open when in town? Looking for a place to stay in Vernazza? Go to Travel Advisor.
Rick Steves Tours & Save Vernazza
We are proud to announce that Save Vernazza has arranged to work with select Rick Steves tour groups this season in leading educational walking tours in Vernazza in the effort to promote sustainable tourism through educating visitors on Vernazza's territory and cultural heritage.
The first such tour was hosted on April 15, 2012. Ironically, one of our February 2012 "With Love, From Vernazza" fundraising contest winners (the prize, a tour) was with the Rick Steves group and winner Karan was kind enough to share her time & tour with the group. Ruth Manfredi of Save Vernazza said about the tour ,"it is a special time to be visiting Vernazza. Our group was able to see first hand the devastation of the October 25 floods and hear Michele recount her narrow escape from her shop…it was a delight for us to share our enthusiasm for our cause and for Vernazza, especially to be in the company of such a lovely group of people who enjoyed the tour as much as we loved giving it."

Read more from Ruth about what it feels like in Vernazza these days at our new Save Vernazza blog page.
S5T
Yana Pietras had been visiting the beautiful Cinque Terre villages for 12 years and after arriving in Florence for a semester abroad she understood there was much curiosity amongst the many international students regarding what happened on October 25th. Yana did her best to communicate news and discovered that many students wanted to help but didn't know exactly how to do so.

With some help from Save Vernazza and a few friends, S5T (Students for Cinque Terre) was founded. S5T was founded to be an expression of student support for the villages in Cinque Terre that were devastated, striving to create awareness and to help rebuild and restore the Cinque Terre and preserve its territory for future generations.
S5T started off with the idea of selling buttons bearing the number "5" which represents the 5 towns in Cinque Terre. It is the hope of S5T that many more student oriented events and volunteering will bloom from the initial ideas.

Visit S5T on Facebook, and tell the student in your life about this new forum for students to share ideas about possible ways to get involved in rebuilding & restoring the Cinque Terre.
March 27, 2012
The President of Italy, Giorgio Napolitano, visited Vernazza on Wednesday, March 21. President Napolitano toured the town, had lunch and then spoke at a meeting held in the Church of Santa Margherita d'Antiochia in Vernazza's Piazza Marconi. The focus of the discussion was on moving from "emergency to prevention" with Napolitano stating the goals as two fold: first, applauding Vernazza's mobilization efforts in the face of such adversity and second, to focus on the very important issue of preservation of the territory.
Napolitano was visibly moved by his time spent in Vernazza. He graciously thanked Vernazza's citizens, Vernazza's Mayor Vincenzo Resasco and the President of the Region of Liguria, Claudio Burlando, for the opportunity to see the destruction first hand. He concluded his speech by saying that the visit helped him to understand that "what for (the people of Vernazza) is great hope, for us is great responsibility."
Vernazza prepared for President Napolitano's visit by laying new stone to the center of Vernazza's main street, Via Roma, as well as finishing the temporary asphalting along the sides of the street (the asphalting is temporary as next winter it will be dug up again to run Vernazza's TV, telephone, electrical, etc. cables underground).
For a look at Vernazza as of March 24, 2012 please visit our Travel Advisor Photos & Videos page.
And, as always, please visit our Travel Advisor page for update to date information on business openings in Vernazza.
"From this angle, it's like nothing ever happened," was a statement overheard this past Saturday by a local sitting on a bench in Piazza Marconi. And to my surprise, I found it to be true. Parts of Vernazza are looking more "normal" every day and certain images are tributes to what one Save Vernazza donor refers to as her "okay-ness".


Children are playing in the square and some older residents are coming home to live. Tourists are walking the streets, restaurants are opening and today the weekly street market returned. Vernazza is moving forward…and forward with a new focus.


As President Napolitano stated, preservation of the territory is of utmost importance for the future of Vernazza and Save Vernazza is proud to be aligned with such beliefs. This weekend, we prepare to move forward with a pilot project that will consist of clean up and restoration efforts to trail number 8 (from Vernazza to the Sanctuary Madonna di Reggio). In anticipation of a successful outing, we look forward to future opportunities involving volunteers as we work to Rebuild, Restore and Preserve Vernazza.
"If we are to go forward, we must go back and rediscover those precious values…" Martin Luther King Jr.
March 9, 2012
Stepping onto the terrace, I became mesmerized by sights and smells. After a long, seemingly endless winter, I was once again in Vernazza, an exceptional place where even after the events of last October, much remains the same: the church bells and rhythmic waves; the green of the hillsides; the blue of the water and the pastels of the buildings contrasting and yet complimenting one another.
I came to Vernazza this morning for a public meeting, hosted by Mayor Vincenzo Resasco, detailing Vernazza's strategic plan for reconstruction, updates on the progress made thus far and how Vernazza is preparing itself for the reopening of its tourist season.
An announcement made at the meeting, and one that Save Vernazza is pleased to have helped facilitate, is that architect and urbanist Richard Rogers will be providing his expertise in the rebuilding of Vernazza by overseeing Vernazza's "urban regeneration" project. Lord Rogers is the 2007 Pritzker Architecture Prize Laureate, recipient of the 1985 RIBA Gold Medal and the 2006 Golden Lion for Lifetime Achievement (La Biennale di Venezia). Over the course of his successful career, Richard Rogers has made a major impact on contemporary architecture, with key projects such as the Centre Pompidou in Paris, Lloyd's of London and Terminal 4 in Madrid Barajas Airport.
On a personal note, Richard has a great affection for Vernazza and has been a frequent visitor for years. He believes that the reconstruction should be elegant in its simplicity in order to preserve Vernazza's unique character as an authentic small town for both inhabitants as well as tourists. We are honored and excited to have the guidance of such a well known and respected professional and Vernazza will most certainly benefit from Mr. Rogers' involvement.
Other topics of discussion at the meeting included the status of emergency projects currently underway:
Sewage: completed
Canal: includes roadwork as well as enlargement of the canal itself. This enlargement is necessary for what has been referred to as "200 year security" (enabling the canal to withstand future storms such as that of October 25, estimated to occur once every 200 years)
Landslides: project focuses on securing the slides that directly impact the canal and reconstruction of the canal banks and bed in such a way as to decrease the velocity of the water.
Water: continuing on schedule, approximately 90% of all homes with running water
Aqueduct: continuing on schedule
Electricity: continuing on schedule
Via Roma: This week, temporary asphalting of Vernazza's main street Via Roma will be underway. Next winter the road will be dug up once again and all of Vernazza's electrical, telephone, TV, etc. cables will be run underground. Final work along Via Roma is expected to be completed in early 2013.
Gas: By the end of June 2012, a temporary methane gas containment system will be in place to provide methane gas to Vernazza. Over the next 2 years, permanent pipeline will be laid to transport methane gas to Vernazza from the village of Volastra, a project costing approximately 2.2 million Euro and funded by the Protezione Civile.
For up to date images of the reconstruction effort visit our Travel Advisor Photos & Videos page. And, for information on the status of commercial activities, please visit Travel Advisor Home Page.
Additionally, the town is organizing for the beach & harbor clean-up effort in which a group of volunteer scuba divers will assist and dredging of the sea bottom will be necessary. The estimated cost for this effort is 700,000 – 800,000 Euro, approximately 150,000 Euro already pledged by STL (Sistema Turistico Locale) of Liguria.
Also included in Vernazza's strategic plan was a focus on sustainable environmental and social/economic development, specifically with regards to renewable energy, garbage & recycling, sewage, sustainable tourism and education & promotion of Vernazza's territory.
The importance of safeguarding Vernazza's territory was discussed at length and recognized as the key to sustainability for Vernazza, both environmentally as well as economically. Going forward it will be of great importance to Vernazza to attract the kind of travelers who create a relationship with the town, make a connection with the place, its people and its territory, thus understanding and respecting its culture, environment and heritage.
In keeping with this discussion and in alignment with our projects, Save Vernazza will be meeting next week with Vernazza's key technical advisers to map out the best way to collaborate on and move forward with projects that educate through programs and volunteer efforts, assist in the rebuild of trails and focus on the reconstruction of the "muretti a secco", the dry stone walls that integral to the terracing of Vernazza's hillsides. Details of and updates on Save Vernazza's projects can be found at our Rebuild, Restore, Preserve Vernazza page.
At the end of the meeting, I was asked to speak to the audience of residents about Save Vernazza. But in addition to speaking about the details of our projects, I felt the desire to also express my deep appreciation of and respect for Vernazza, its people and territory. This brought about within me an overwhelming mix of emotions by thinking of the October tragedy and the town's courageous work to rebuild. I knew I had to do my best to keep from becoming emotional, so I focused on the faces in front of me. The faces that for the last 4 months have been dirtied with mud, stained with tears, and lined with smiles and laughter. The faces now giving me the strength to keep it together. The faces forever filled with determination and hope.
The weather is warming and the coming of spring gives way to a new hope. Less than 5 months ago the unimaginable happened, and no one at that time would have predicted all that has been accomplished in the time that has passed since. And yet, even after the unimaginable, much remains the same. The waves, the bells, the blues, the greens…the constants that made Vernazza recognizable even when she wasn't..
Now as we slowly return to normal, the "newness" of Vernazza brought about by that tragic day is impossible to overlook. It is a blinding reminder that change is vital to Vernazza's future.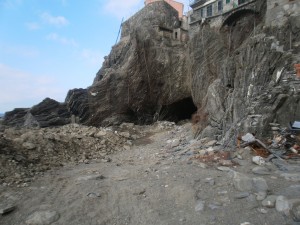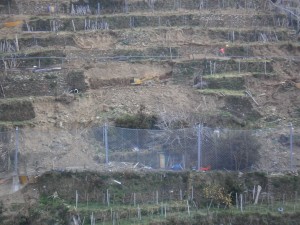 In order to sustain the uniqueness and beauty that is Vernazza, tourism and territory must go hand in hand, for there is no future for one without the other. Vernazza now stands at a crossroads and years from now we hope to look back and take pride in the example she has set for the rest of the world, one of harmony and balance created by the coming together of the two in such a way one cannot imagine it ever being otherwise.
Ruth Manfredi, Save Vernazza
February 11, 2012
Travel Advisor: Visiting Vernazza 2012
Save Vernazza has created a new Travel Advisor page to reflect the current state of affairs regarding Vernazza's commercial activities, in the effort to best prepare the Vernazza bound traveler. Additionally, a corresponding page of current photos & videos of Vernazza has been created at Travel Advisor Photos & Videos. Both pages will be maintained and updated regularly as information is received so please keep checking back.
Vernazza needs your patronage more than ever this year, and the people of Vernazza are looking forward to welcoming visitors. We ask for your patience and understanding as we work toward rebuilding this exceptional village.
Vernazza will one day shine again as the crown jewel of the Cinque Terre, but we are still on the long and costly road to recovery. We have done much in the past 3.5 months, yet there is still much to do. Your donation can make a difference.
Donate Through PayPal
Thank you for your continued support in the campaign to Save Vernazza!
January 24, 2012
"You don't get harmony when everybody sings the same note." Doug Floyd
Vernazza has recently been described as a town where "the stores are closed and wounds still open," where "the emergency is over, but the rebirth is far off." According to the January 12, 2012 article by local newspaper La Nazione, "the 'emergency' is over, but not in the mind of some Vernazzesi. The President of the Region of Liguria, Claudio Burlando, has declared the town open to visitors. And Vernazza's Mayor Vincenzo Resasco has stated that Trenitalia (the train system) has received the official orders to allow any and all persons access to the village.
According to La Nazione "some in town are perplexed by these decisions and statements." One Vernazza resident notes, while walking down Via Roma, that the excavations to repair the sewage system have just begun. The repairs are expected to take two months, but some wonder why the town is allowing people to visit now "in these conditions." Questions and statements such as these are being born from the harsh reality that Vernazza is still a work in progress. Vernazza has one storefront open (the pharmacy), one restaurant, and one coffee bar. Work to secure the canal is ongoing. Today, Via Roma is a shell of its former self and one is unable to tell the difference between what was, prior to October 25, 2011, a storefront versus an old wine cellar. Work permits are being submitted and approved to continue the reconstruction to storefronts along Via Roma and we are cautiously optimistic that the majority of commercial activities will be operable by the spring.
To read the entire La Nazione article, as translated to English, as well as the original Italian version click here.
For photos and videos of how Vernazza looks as of January 21, 2012 click here.
With various articles in circulation claiming Vernazza's state of emergency to be over, Save Vernazza posed the question to Mayor Vincenzo Resasco in our meeting with Town Council members last week. The official statement from Mayor Resasco is that Vernazza is in fact "still under a state of emergency and continues to be under evacuation orders." Yes, the emergency crews (the national guard and fire department) have pulled out but the urgent projects are now contracted to private firms. In our meeting, we discussed and gathered details regarding the projects involved in repairing the 108 million Euro worth of damages caused to Vernazza on October 25, 2011, when torrential rains and over 100 mudslides left the town buried in over 4 meters / 13+ feet of mud and debris.
Despite the difficulties of its current situation, the town of Vernazza is proceeding to contract new projects worth approximately 9.3 million Euro to secure the town, according to a "Work in Progress" document recently released by the town. These projects funded by money received from the Region of Liguria, in a few months time are expected to result in the lifting of the evacuation orders that will allow Vernazza's residents to return home as well as place Vernazza in a better state to welcome visitors. Additionally, funds received by the Cinque Terre National Park will go toward the repair of hiking trail #2, from Monterosso to Vernazza, Vernazza to Corniglia.
For additional project details and to read the entire "Vernazza: Work in Progress" document click here.
Save Vernazza is now moving forward to evaluate and fund projects that focus on both the immediate and long term needs of Vernazza's residents and visitors. Some examples include: Benches for Vernazza's streets and squares. Reconstruction of Vernazza's Parco Giocchi (Playground) Solicitation of company donation(s) specific to paint, paint supplies and resurfacing materials for work along Vernazza's main street, from Fontanavecchia down to the square. Reparation to trail #8 (from Vernazza to the Sanctuary Madonna di Reggio) and trail #8a (from Madonna di Reggio to San Bernardino), to include funding for repairs to effected "muri a secco" (dry stone walls, a key factor in UNESCO's decision to grant Vernazza its World Heritage Site status). For photos of damage to trails #8 and 8a click here. Volunteer Coordination: In lieu of Vernazza's ability to accept volunteer's at this time we are gathering contact information on our volunteer page that will allow us to alert interested parties as initiatives come available. To submit your information, click here.
Within the next weeks we will be adding to our website further details of the "Save Vernazza" projects, their estimated costs, time-lines and any applicable fundraising initiatives. Please stay tuned and check back to our
Rebuild Vernazza page for that information.
Some events over the past weeks include:
European Union Commissioner, Johannes Hahn, along with the President of the Region of Liguria, Claudio Burlando, visit Vernazza.

Having trouble viewing the video?
Click here.
The communities of Riomaggiore, Manarola, Groppo & Volastra donate car to Vernazza.
On January 14, 2012, the communities of Riomaggiore, Manarola, Groppo & Volastra donated a new 4×4 extra cab pick-up truck to the community of Vernazza.
Fiat donates 4 new cars to Vernazza for Vernazza's "car sharing" program.
On January 20, 2012, Fiat Group Automobiles donated 4 new 4×4 Fiats to Vernazza for use in their "car sharing program". The majority of Vernazza's residents lost their vehicles in the flooding and mudslides of October 25, 2011.
Vernazza's First Store Re-Opens
On January 21, 2012 Vernazza's Farmacia (Pharmacy) reopens. By Italian law, the pharmacy is allowed no more than 90 days closure and thereafter the proprietor loses his/her license. Therefore, the work to restore the pharmacy has been completed, The walls may be empty and there is only a table, chair & pharmacist, but the pharmacy in Vernazza is operable once again.
Vernazza's First Restaurant Re-Opens
On January 23, 2012 the restaurant Belforte re-opens. The Belforte is above water level, along Vernazza's waterfront, and therefore suffered no damages (other than to services) on October 25, 2011. Since the departure a few weeks back of the military cooks that provided meals for crews and volunteers, Vernazza has been without such a service. Finally, workers have a place to go for a hot meal and break from the tiresome workdays.




This past Saturday morning when walking down Vernazza's main street, a train pulled up and some tourists got off. As they descended the stairs it was evident by their expressions they had no knowledge of what happened in Vernazza on October 25, 2011. With no information center available, we decided to create one ourselves. Some printed materials, an old bookshelf, a piece of plywood and a curtain later we established the first Save Vernazza Information Center. Albeit rough and hastily put together, it fit with the ambiance of Vernazza these days.
Later in the afternoon a group of American students studying abroad for a semester at the University of Florence arrived. They asked, I explained, I cried, they cried. Here is an email from one of them we received the day after:
I am currently in Firenze as an Interior Design Study Abroad Student from Pittsburgh, Pennsylvania USA. On January 21st 2012, a group of fellow students and I planned our first trip to Cinque Terre without any knowledge of the recent disaster that swept through the town of Vernazza.
As we traveled, we learned more about the tragic event but nothing prepared us for the sight we saw as we stepped off the train in Vernazza. I immediately was overwhelmed with sadness for those involved and lost, yet felt the warmth and beauty the town still radiated. In that moment I fell in love with Vernazza.
As we were waiting for our next train, a Save Vernazza table was set up and the woman began to share the stories of Oct 25th, those of which I will never forget. Again, in that moment I was forever changed and my journey to Italy had a deeper meaning.
I would be honored to give my services in any way that I can. You all are in my prayers, God Bless.
Jordan
The stories of what happened in Vernazza on October 25, 2011 are just a part of what make people care and want to be involved in the campaign to Save Vernazza. Jordan and his friends fell in love with her for the beauty she still radiates today, despite her "open wounds". For those unable to come see her, we will continue to keep you updated on her recovery. For those planning a trip to the area this year, keep the Cinque Terre in your travel plans.
When inquiring for accommodations in Vernazza, you may find room owners slow to respond and/or hesitant to confirm reservations at this time. Be willing to wait. Take the chance on her. But, be prepared to see her changed by the events of October 25, 2011.
A very well traveled and wise man once said about Vernazza that she is "exceptional…(and) deserves a special dignity." Rick Steves
With your help we can rebuild this exceptional village.
"Coming together is a beginning. Keeping together is progress. Working together is success." Henry Ford"
Coming Together, Keeping Together, Working Together We Can Make A Difference.
January 9, 2012
"In every walk with nature one receives far more than he seeks." John Muir
The other day I hiked the Number 2 trail from Vernazza to Corniglia, following the sentiment from our November 21, 2011 update to "see the aftermath with my own eyes….the time had come to face (this) beast". As I came upon one of the many landslides causing great destruction to this beautiful footpath, I was forced to make a decision that symbolizes where we are and how we will move forward with the campaign to Save Vernazza.
I could assess the situation, plan my course wisely and move forward with confidence. Or, I could allow myself to be intimidated by the enormity of the destruction, turn around and give up on the conquest. "Turn your face to the sun and the shadows fall behind you." (Maori Proverb). I chose to turn my face to the sun. I arrived in Corniglia 2 hours later. Click here to see photos & videos of the hike.
We at Save Vernazza believe in our mission to rebuild, restore and preserve the town of Vernazza. We know it is possible and we have your support. Many believe that Vernazza will be "even more beautiful than before."
The town of Vernazza plans to open its doors to visitors late spring of 2012. Work to stabilize the hillsides and secure the canal is underway and over the next months repairs to utilities and commercial activities along Via Roma will be ongoing. She may not be how you remember her to be, you may find her a bit "rough around the edges", for the road to complete restoration will be long and costly. But she will be there to welcome you. Keep the Cinque Terre (Riomaggiore, Manarola, Corniglia, Vernazza and Monterosso) in your travel plans and visit the region this year to see how far we've come. Finally, please continue to show your support in the campaign to Save Vernazza.
Within the next week Save Vernazza will meet with Vernazza's Mayor Resasco and the Town Council to discuss specific projects, their budgets and timelines. Additionally, we will outline opportunities for volunteers, campaign drives and other initiatives to bring attention, resources and donations to the Save Vernazza campaign. Please stayed tuned for announcements within our forthcoming updates and changes to our "Rebuild Vernazza" project page, including specific information on how your donations will be used in the efforts to rebuild, restore and preserve Vernazza.
Some of the past week's highlights include: January 3, 2012: New York Times article "In Liguria's Coastal Hills, a Storm's Fury Brings a Struggle for Restoration" is published, in which Save Vernazza is featured.
January 3, 2012: Save Vernazza does a three part interview with Lise Betram of Cheo Vineyards, Vernazza's only commercial wine producer. Lise discusses with us the damage done to their vineyards as a result of the over 100 landslides of October 25, 2011.

For additional photos and to view the three-part series of short films click here.
January 3, 2012: Save Vernazza's Michele Sherman is interviewed for the Canadian Broadcast Company's "As It Happens" feature "Italy Landslide Restoration". To listen to the broadcast click here.
January 6, 2012: Local and international artists gathered for what has been called "Un arcobaleno di solidarietà per Vernazza" (a rainbow of solidarity for Vernazza). The painters decorated the temporary doors along Via Roma's commercial businesses with beautiful murals.

For more photos and videos of the "arcobaleno" event click here.
January 6, 2012: Vernazza celebrated with our friends from Riomaggiore the "festa della Befana", the Feast of the Epiphany, a public holiday in Italy. The Befana is an old woman, dressed like a witch, who delivers gifts to children for "La Festa dell'Epifania" (Feast of the Epiphany). The event included construction of lanterns to release into the night sky, a "spettacolo" (performance) and the arrival by sea of the "Befana" with gift giving following thereafter.
January 7, 2012: Vernazza says goodbye to the Navy cooks who have been present since just days after the events of October 25, 2011 feeding Vernazza's volunteers hot meals twice a day, as well as the residents for the occasional "festa" (party) under the tent. The parting is bittersweet, a necessary step toward the rebirth of Vernazza. But these hard working men have also become good friends and they will be missed, for their service went well beyond food. Thank you for your kindness, your encouragement, your smiles, laughter and tears. Grazie ai nostri cuochi amici della marina!
With each crew that pulls out, each truckload of dirt that passes by and each brick unearthed, Vernazza becomes familiar yet again. With every paint stroke and pressure hose we catch a glimpse of her former beauty. She will no doubt reclaim her place in this world as the "jewel of the Cinque Terre" and inevitably along the way will be painful reminders of that fateful day.
December 31, 2011
"We will open the book. Its pages are blank. We are going to put words on them ourselves. The book is called Opportunity and it first chapter is New Year's Day." Edith Lovejoy Pierce
Today we bid farewell to a year that many Vernazzese may prefer to forget. But if we forget, we learn nothing. Therefore, we will move forward into this new year and take the lessons from the past into our future.
Spending time in Vernazza these days is both joyful and painful. Days are filled with highs and lows. On December 23, Vernazza laid to rest Pina, Sauro and Pina, the three residents killed in the flooding and mudslides of October 25, 2011. In the afternoon, volunteers from town and Save Vernazza organized a Christmas celebration for the children of Vernazza. Santa Claus paid a visit, with presents in tow and a gang of clowns to entertain with games, balloon animals and face paints. Cards and small gifts were sent from children of the Condit Elementary School of Bellaire, Texas and the West University Methodist Church of Houston, Texas, to Vernazza's young to make for a brighter Christmas.

The children, as children tend to be, were mostly unphased by their surroundings, content to be together again at home. Though one conversation overheard amongst them occurred as they gazed toward Vernazza's beach, their former warm weather playground where they spend days with nets in hand catching fish and crabs, that playground now a deposit for mud and debris. "Are the crabs still alive underneath all that?" they wondered…We wonder that ourselves at times…
On Christmas Eve, a dinner was hosted in the square under the tent. "I nostri fratelli" (our brothers) from Riomaggiore and Manarola were invited and graciously thanked for their continual support of the people of Vernazza and their ongoing efforts to assist in the recovery.

Christmas day itself was eerily quiet in Vernazza with few people in town. However, even on Christmas, the hum of the diggers could be heard as work on the canal will continue until it no longer poses a threat to Vernazza.
In the afternoon of December 28th, Mayor Vincenzo Resasco called a town meeting in the square for Vernazza's residents, to discuss the state of affairs and provide information on projects planned for the forthcoming weeks. The details of that meeting are as follows:
The money already made available by the regional and provincial governments to Vernazza has been allocated to the following projects: €900,000 to excavate the canal and €600,000 to secure the mountainsides against future slides. This work will require much more funding since the use of helicopters, micro probes and skilled personnel will be required. €3.5 million to secure the canal and landslides in the unstable zone around Vernazzola. After year end, weather permitting, the work will begin to restore essential services such as water, sewage, telephone lines and electricity along Via Roma and Via Visconti.
In mid-January, the following private works projects will commence: Reconstruction and/or stabilization of supporting structures and retaining walls. Coordination of work permit requests by private citizens and business/property owners. Rebuilding of vital commercial activities (ie: bakery, pharmacy, food market).
Additionally, during the excavations over the next weeks, gas pipelines will be extended and sites will be appraised for the installation of the town gas tank. At the same time, an evaluation of the long term use of methane gas as an alternate fuel source will be underway. Also being considered by Regional representatives and engineers is the feasibility to install solar panels for the local energy supply and/or the use of biomass and hydraulic power.
In the meantime, while waiting for finances from the National Park, projects are being prepared to restore trails #2, 8, 6D, 7A and 7B.
https://web.archive.org/web/20210124214429if_/http://www.youtube.com/embed/Fiex6y75CH8
After the town meeting a "stoccafisso" dinner was held in the square under the tent (stoccafisso is a typical Ligurian dish of dried cod that is soaked and then prepared with olives, potatoes, swiss chard, olive oil and pine nuts). It was a night of good food and great company, wrapping up with Father Don Giovanni, accompanied by many in attendance, singing into the night. For a brief time, many were able to forget the reality that existed outside the tent.
https://web.archive.org/web/20210124214429if_/http://www.youtube.com/embed/S1ccBX3HH84
Unfortunately, this reality will be all the more evident on January 7 when the Navy emergency camp kitchen and crew pull out of Vernazza. Gone will be the days of lunches and dinners together under the tent.
Instead, the few that will remain in Vernazza will have to fend for themselves. However, the one restaurant in the square that sustained very little damage "Taverna di Capitano" will look to re-open soon to provide not only hot meals for those in need but a warm place to get together after a long day's work.
Tonight the people of Vernazza will toast a farewell to 2011. Mayor Resasco posted the follow notice around town yesterday: "2011 is coming to a finish and we approach a new year. Even though we are in a moment of difficulty we will celebrate together under the tent. After many sad days and hard work we will enjoy a night of joy and happiness. We take this opportunity to wish a happy new year to all Vernazza's citizens, all who have come to help and continue to do so, and all that love Vernazza…we know there are many. We wish you all a Happy 2012."

Save Vernazza would like to take this opportunity to thank our donors,
friends and followers and wish you all the very best for 2012. We would like to share with you that as of December 25, 2011 we have surpassed €100,000 in donations received. Although it is merely a "drop in the bucket" toward the over €100 million required to rebuild Vernazza, we are very proud of this accomplishment and have you all to thank. We look forward to continuing our efforts in 2012, working together to make a difference…to bring the life and beauty back to our Vernazza. Tanti Auguri e Buon Anno Nuovo!
"Never measure the height of a mountain, until you have reached the top. Then you will see how low it was." Dag Hammarskjold
December 22, 2011
Tomorrow Vernazza will lay to rest its 3 residents that were killed in the flooding and mudslides that occurred on October 25, 2011. The funeral for Giuseppe "Pino" Giannoni, 60 years old (of Valentino's Story), Sauro Picconcelli, 55 years old, and Giuseppina "Pina" Carro, 81 years old, will take place at 11,00 in Vernazza's Church of Santa Margherita d'Antioch.
According to French law, as the 3 deceased washed ashore in early November near St. Tropez, France, a DNA analysis was required to officially identify and release the bodies. Now Pino, Sauro and Pina can come home. And, the people of Vernazza can come together tomorrow to mourn the loss of their fellow Vernazzese.
Riposate nella pace i nostri cari amici. Siete sempre nei nostri cuori.


Tomorrow will be the day that many Vernazzese of the older generations will see the destruction for the first time. Their desire to return sooner, if only for a visit, has been great although not feasible with state of the town and evacuation orders Vernazza has been under since October 25th.
Few have lived anywhere other than Vernazza. Most were born in their homes. On October 26 and the days following the disaster, the elderly were of the first of Vernazza's residents to be evacuated. Some were brought down on ladders from 2nd and 3rd story windows, carried on the backs of emergency crews, down the land filled streets on stretchers to the boats awaiting them. There were those that went willingly, others reluctantly, stating they would rather die in Vernazza than leave their home. Many had relatives elsewhere to go to. Others have been placed in nursing homes, and those in ill health are said to be 'holding on' for their desire to return home and be amongst their people in their final hours.
They were bombed and sent running to the hillsides to avoid the German army. They survived a war. And yet, many older Vernazzese describe the events of October 25, 2011 as they worst they've live through to date.
"A man's age is something impressive, it sums up his life: maturity reached slowly and against many obstacles, illnesses cured, grieves and despairs overcome, and unconscious risks taken: maturity formed through so many desires, hopes, regrets, forgotten things, loves. A man's age represents a fine cargo of experiences and memories". Antione de Saint-Exupéry, Wartime Writings (as translated from French).

Happy to share their stories, whether or not you understood their language, seen walking arm in arm on the way to mass, doting on the children of residents and visitors alike, Vernazza's elderly are the window to Vernazza's past. They gave their hearts and souls to make Vernazza what it is today. They were the fine touches to the magnificent home that was Vernazza. And today Vernazza is all the more silent without them.
"When eating a fruit, think of the person who planted the tree" Vietnamese Proverb


The dying language that is their dialect is heard less on the streets now. For the younger generations, those strange words and phrases that don't quite sound Italian, are used mostly when speaking with their elders. Many of the children of Vernazza do not even understand the dialect. In honor of these people and those that came before them, included below is a Vernazza dialect song (with the chorus translated to English).
Quàndu mé svéggiu â matìn, quàndu sciuìssce 'n ti ciàn
guàrdu lazzù 'r Begaìn, guàrdu 'n ti scòggi i gabbiàn
e sètte sbìri chi gìan, pâ chi se bullàn in mâ
quéllu veccéttu 'n ser mö, cu l'è lì férmu a pescâ
Bèllu 'r mé vècciu paìse
te pòrtu sémpre cùn mé
fìnna se gîu tüttu 'r mùndu
mé rèstu sémpre cùn tè
bèllu 'r mé vècciu paìse
te séntu dréntu de mé
(Beautiful are you my old village
I will take you always with me
Even if I travel all the world
You remain always with me
Beautiful are you my old village
I feel you within me)
Pénsu a quand'éa piccenìn, trà argàn, tàne e barchétte
zugàmu cû remuìn, o 'ndàmu a dâ e scignuétte
ma sé dê vôte a matìn, i scaregàvan l'aéna
sùrve quâ tòa piccenìn, g'andàmu a fâ l'artaléna
Bèllu 'r mé vècciu paìse
tê sémpre dréntu de mé
pòssu giâ tüttu 'r mùndu
ma pàrlu sémpre de té
bèllu 'r mé vècciu paìse
te pòrtu sémpre cùn mé
(Beautiful are you my old village
You are always within of me
I can travel all the world
But speak always of you
Beautiful are you my old village
You remain always with me)
For more information on Vernazza's "Ê PAÒLLE DÎ VÈCCI", "Le Parole dei Vecchi" (words of the old) including dictionary with sound bites, compilation of music and more please visit www.dialettu.it
"Where we love is home – home that our feet may leave, but not our hearts." Oliver Wendell Holmes
Help make Vernazza safe again to welcome her residents and visitors.
Donate Through PayPal
December 16, 2011
"Better to light one small candle than to curse the darkness." Chinese proverb
Andrea Leonardini of Vernazza and Linda Mazzi of La Spezia wed this past Saturday in the Church of Santa Margherita d'Antiochia, in Piazza Marconi, Vernazza. The decorations were minimal and the church crowded with hundreds of boxes of food and supplies, but it was a day of happiness in an otherwise somber Vernazza.

In spite of the fact that their village was devastated on October 25, 2011, Andrea and Linda did not deter from their plans to marry in Vernazza. A friend of Andrea's said, "This marriage is significant in providing a well needed moment of happiness during these tough times and is also symbolic of Vernazza's commitment to moving forward."

Since the events of October 25, Andrea has been working with his fellow citizens in freeing the town from tons of mud and debris. On Saturday he took a moment of pause and invited his his friends and family to celebrate in the square, the mountain of debris in the background that still occupies the beach did not detract from the day's festivities.
Auguri a Andrea e Linda. Vi auguriamo una vita insieme con tanta felicità.


While it brings us joy to see the beauty slowly returning to Vernazza and progress being made in the long road to recovery, we must keep in mind that the journey will lead us uphill. Until made safe, Vernazza's residents and visitors will be unable to return. There is much work to be done to ensure this safety. Yes, Vernazza's streets are cleaner. Her wounds becoming less visible every day. But we must not concentrate only on her "face" for she is in dire need of rehabilitation elsewhere. Immediate funds are needed and your contributions critical. Vernazza is a place people dream about and together we can keep this dream alive. Your donation will go directly to our efforts to rebuild this magical village, to ensure that you, your family and friends, along with Vernazza's 500+ evacuated residents, will be able to return to enjoy Vernazza one day. Working together we can make a difference.

December 14, 2011
It has been a busy week with much to update you on.
On Wednesday, December 7, Save Vernazza founders Michele Lilley, Ruth Manfredi and Michele Sherman spent the day in Vernazza with a CBS reporter. Interviews with Save Vernazza, Mayor Vincenzo Resasco and Valentino Giannoni were had, as well as a ride up into the hillsides with CBS to view the damage done by 100+ landslides of October 25.

On Thursday, December 8, Save Vernazza was proud to celebrate the Feast of the Immaculate Conception in Vernazza with the Town Council and its citizens. Ruth, Michele and Michele brought their own children to share in this "first homecoming" with friends. For the occasion, Save Vernazza made T-shirts for all of the town's children with the message "I miracoli si possono fare" (miracles can happen).



Our dear friend Valentino captured the spirit of the day: "The vision of the children running from the train station down the street was a symbolic moment of healing for Vernazza. It was like the main artery of the village receiving fresh oxygen and energy again through the pure love of the children."
The idea to celebrate December 8 with the whole town came to Mayor Resasco on the day after the floods of October 25. He promised that the townspeople of Vernazza would celebrate the Feast of the Immaculate Conception in Vernazza, free of mud. To the people who were forced to walk through Vernazza at the height of the second story windows, over 4 meters / 13+ feet of mud and debris, it seemed that only a miracle would make it possible. In fact, the following day, the townspeople were evacuated.
On the morning of December 8, with the "asado" barbeque slowly cooking over the coals in Piazza Marconi, the trains arrived from La Spezia and Levanto, filled with families, elderly couples and children: Vernazzesi. As the T-shirts were passed out to all the children, one felt the electricity in the air. The voices of the children canceled the silence of Vernazza's streets and the volunteers, , in their orange work suits or yellow overalls, lining both sides of the street below the train station, began a long and touching applause as the children & townspeople came down the stairs. For many, this was their first time back. The children immediately felt at home, running and playing, even though Vernazza still showed its visible wounds. The elderly, many of whom had never previously lived anywhere else, walked around with tear-filled eyes, marveling at how much had been accomplished in such a short time. The volunteers were filled with pride at their role in giving so much joy to this community. The day was filled with friendship, hugging, laughter, tears and sharing stories. Talk of hope filled the air, as people began to envision a renewed Vernazza.


https://web.archive.org/web/20210124214429if_/http://www.youtube.com/embed/k9A0r2E-reg
The core of volunteers who never leave Vernazza were able to share one day of "normalcy" with the sounds of children running through the piazza and the camaraderie of the townspeople. As late as December 7, the volunteers spent the day washing the cobblestone streets so that the children could return. They worked at hanging new plywood temporary "doors" to give some semblance of normalcy to the gaping holes that represent the shops and restaurants of Vernazza. All of this work so that Vernazza could again receive her people.
On December 8th people talked fondly about how Vernazza was and began to dream about how it will be again. On behalf of the community of Vernazza we thank you for the donations and messages that have been arriving to Save Vernazza from all of our supporters around the world. With your continued generosity, we feel hopeful that we will meet our goals to rebuild Vernazza.
Stayed tuned for our next update where we will report on a wedding of one of Vernazza's own, that occurred in town on December 10, 2011.
December 12, 2011
Visit Save Vernazza's You Tube Channel to see a series of videos from December 9, 2011. A walk up the trail to Sanctuary Madonna di Reggio and down the road into Vernazza, showing the numerous landslides and destruction done to the mountainsides and roads as a result of October 25, 2011.
The journey starts and ends with the two videos below. Stay tuned for more updates about Save Vernazza's progress over the past week.

https://web.archive.org/web/20210124214429if_/http://www.youtube.com/embed/cGDBw7OZoS0



https://web.archive.org/web/20210124214429if_/http://www.youtube.com/embed/OxV1z9m70Kc
December 3, 2011
The only thing 'normal' in Vernazza these days is the train schedule. She is a town without her people. Even more so now, as this afternoon all (volunteers and emergency crews) were evacuated due to heavy rains.
Imagine Vernazza without a single soul in it. If she were a person I'd say she's lonely. Feeling abandoned. And I often think of her this way. Like a living being. She has a life, a soul, a vibrance, a presence like no other place I've been. I find myself feeling sorry for her a lot of the time. Is this strange? Somehow I don't think I'm alone in my feelings.
She has the company of the cats and ducks now. Has she wondered where we all went and why? Would she have wanted us to leave to keep us out of harm? Does she know how much we all want to return to her and help return her to what she once was? Does she know how loved she is?
She is without her family and will continue to be until she is well enough to accept us back. Yes, the weather will let up and the volunteers and emergency crews will return. But where are the children that ran her streets? The men and women who sat her benches, walked her passageways, took her photos and marveled in her beauty? When will they return to her?
The way back to her is complicated and costly. Would she understand if we couldn't afford to fix her? Would she be forgiving if we weren't able to return?
If I could talk to her I would tell her we are doing our best. I would tell her there are people all around the world thinking of her, wishing her well and supporting her recovery. I would tell her that she is loved and that we will not give up on her.
"If we are facing in the right direction, all we have to do is keep on walking." Buddist saying

The estimated cost to repair Vernazza to the point where she will be safe enough for her residents to return is 50 million euro. Vernazza is still without gas and drinking water, continually under a state of emergency and as of today evacuated of volunteers and emergency crews. The situation is bleak but not impossible. Together we can make her healthy again. Together we make the difference.
Latest Updates Page 2
Donate Through PayPal